Basket Hall arena
The home arena of basketball club Lokomotiv-Kuban was opened in 2011. Appearance of the high-level basketball palace became really eventful for Krasnodar. The fans filled Basket Hall since the first Loko matches in January 2011. For the present Basket Hall is one of the sights of Krasnodar region. It's not only home court of Loko this is a modern venue for the highest standards competitions of team kinds of sports.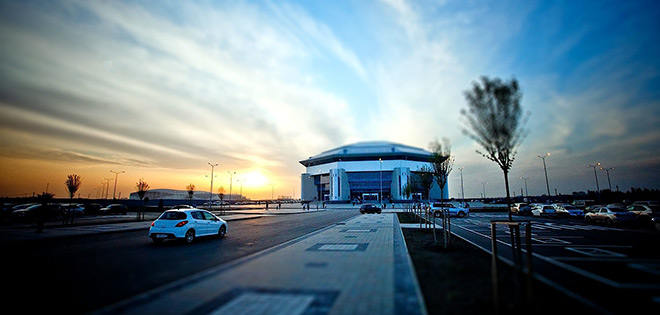 A central gym which hosts Lokomotiv basketball matches is able to seat 7500. Moreover here are all the conditions for true grandiose sports show. Special sound equipment PSSO is established along the perimeter of the gym, qualitative illumination is capable to strengthen bright show effect and create nice image for TV broadcasting. HARO parquet is a particular pride of Basket Hall. The court absolutely meets even NBA standards. Since the season 2011-2012 Mondo screen was established in the central gym in order to make basketball event unforgettable.
There are all the conditions for work and development of sportsmen in Basket Hall. The second floor contains a training gym with sliding stands for 500 seats, gym apparatus set, shower cubicles, comfortable locker rooms. And all of this meets the highest requirements of professional sports.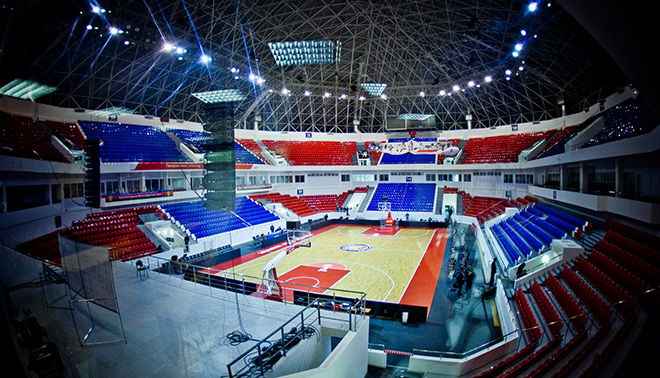 But even now improvement is still in progress. Parking area has been widened. Loko merchandising stores for fans are just about to open. Also responsible officials are carrying out work over supplementary catering points.
In the summer of 2016 Basket-Hall has undergone a colour restyling. White interior was changed to dark grey.
Basket Hall address: city of Krasnodar, Prigorodnaya street 24.
Ticket office phone: +7 (861) 214 11 31