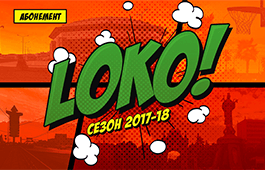 "Lokomotiv-Kuban" highly appreciates all the true fans and basketball-lovers. The fans, for which attending all the matches of the favorite team is primarily important, deserve special conditions during the home games of the red-greens. Therefore, we offer you to purchase the Season Tickets for the Loko's main games of the season. The season ticket also gives you such advantages as:
- Personal seat. Forget about looking for a free seat every time you come! You will now have a personal seat reserved for you for the whole season.
- No queues. Buying a ticket for every single game is not your problem anymore! The seasonal ticket lasts the whole season and does not require any further extensions or changes.
- Saving. Buying a seasonal ticket gives you a decent discount.
- Priority in attending all the club's events. The requests of the seasonal tickets owners for attending fan and club events are dealt with and considered prior everyone else's.
To make it easier for you to decide on the place and the price, we offer you the following table to look through:
Seasonal Tickets prices for the season 2017-2018
Sector
Price

2, 6

   15 000   

1a, 3a, 5a. 7a

10 000

1b, 3b, 5b. 7b

7 000

4

4 000

9, 10, 14, 15 (lower)

   5 000  

        9, 10, 14, 15 (upper)        

4 000

8, 11, 13, 16

4 000

12, 17

3 000

Court Seats 1

75 000

Court Seats 2

20 000